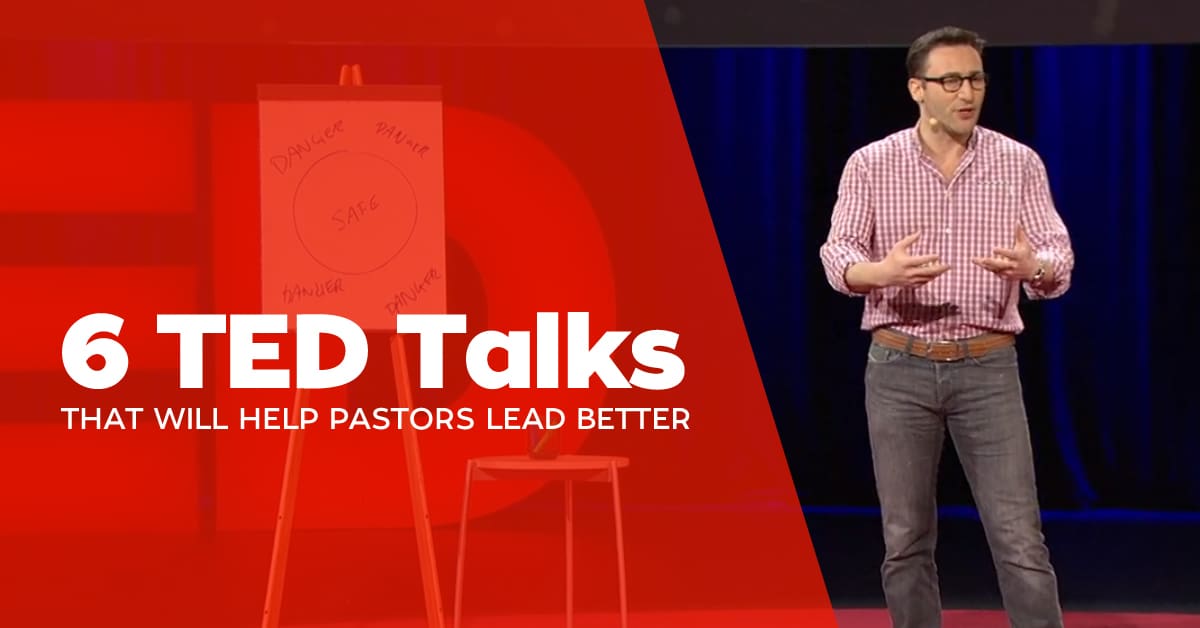 28 Jul

6 TED Talks That Will Make Any Pastor A Better Leader

These 6 TED talks will help any pastor become a better in leader just a few minutes. We've also include our major take-aways from each video.

Four-star general Stanley McChrystal shares some of the most important lessons he learned about leadership during his military career. They include being able to listen to others, so that you can learn and lead a diverse group towards a common goal.
Major take-aways
Leaders can let you fail but they won't let you become failures.

Situations change fast, leaders need to adapt even faster.

Leaders are the ones that have the obligation to change.

Relationships are the glue that hold a team together.

Leaders are responsible to create and cultivate healthy relationships.
Israeli conductor and business consultant Itay Talgam highlights six renowned conductors to illustrate why leaders should be like conductors. They are able to bring dozens of various instruments together through passion and respect to create harmony.
Major take-aways
A leader's happiness is contagious.

Great conductors see the musicians as partners not instruments.

Great leaders let people develop their skills.

Great leaders make beautiful results from a VERY unique and diverse group of people.

There is no "right" leadership style. Great leader own and excel at their own style.

Great leaders create systems/processes but they also nurture the atmosphere in which those systems/process can thrive.

A great conductor knows that the show is not about themselves, it's not about the musicians, it's not even about the music, it's about the audience and how they feel.
Dudley, leadership development coordinator at the University of Toronto, Scarborough and founder of Nuance Leadership Development Services, believes that leadership should be about the "lollipop moment." In this light hearted speech, Dudley defines "lollipop moments" as the times when you've made someone else's life better.
Major take-aways
Most people think leadership is something that they can reach one day but it's not attainable in the near future.

Small moments of encouragement can make the biggest difference in someone's life.

Leadership is not about change the world, it's about change someone's world.
CD Baby founder Derek Sivers shows some footage of an unsuspecting man dancing by himself in this three-minute speech that proves how leaders can start a movement — even if it just starts with you dancing like a fool in a public.
Major take-aways
Leaders need to be first

Leaders embrace first followers like equals

The first followers turn a lone nut into a leader.
On her first day as principal of a failing Philadelphia high school, Linda Cliatt-Wayman quickly learned that being a leader is more than just "laying down the law." In this uplifting speech, Cliatt-Wayman presents three principles that helped her turn around her struggling school.
Major take-aways
The leader is ultimately responsible for ALL the outcomes of their organization.

Great leaders believe in a dream bigger than themselves and assemble a team to see that dream accomplished.

Leaders aren't afraid to re-invent the wheel if they need to.

Great leaders don't focus on the past, they focus impacting the future.

Leaders invest in creating great systems to impact the future.
After spending 25 years observing leaders in action, Roselinde Torres shares the three most important questions that every aspiring leader needs to ask if he or she wants to succeed.
Major take-aways
Over 50% of the world's top companies say they are not preparing enough leaders from within.

Most companies are investing in leadership development but the leadership gap continues to widen.

Thriving leaders are learning from a wide variety of sources and industries.

Great leaders don't have their heads down, they see around corners.

Great leaders shape their situation, they don't just react to it.

Thriving leaders have relationship with a wide variety of people.

Are you courageous enough to abandon something that has made you successful in the past, to be successful in the future?